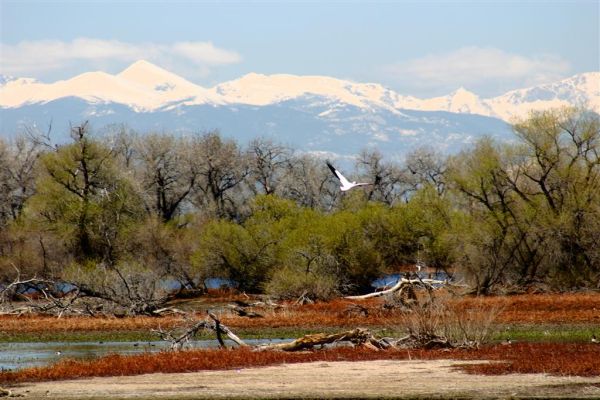 Photo courtesy of
official Colorado
State Parks website.
Home to the Colorado Bird Observatory, and more than 300 species of waterfowl, this is a boater and wildlife-watcher's paradise. The park's 2,500 acres consist of a man made lake turned natural wetland. Today the park is one of Colorado's predominant wildlife refuges.
DiscoveringColorado.Com Home National Parks • State Parks • Cams • Skiing • Photos
The southwest side of the lake, and the marshes along its edge, provide a habitat for great blue herons, bald eagles and pelicans. A family of eagles nest in the park each spring. Facilities within the park provide visitors with excellent view points for bird and wildlife watching and photography. There is even a shuttle, aptly named "Eagle Express," which takes to visitors to view the eagles.

A nine-mile hiking and biking trail leads along the perimeter of the lake. A nature center provides educational exhibits and well-informed staff to answer questions. Barr Lake is ideal for non-motorized boating activities. The park offers a peaceful, relaxing haven for visitors to enjoy sailing and canoeing in calm waters. The fishing for perch, bass, trout and walleye is exceptional.
Location - Directions - Take I-76 northeast from Denver, exit on Bromley Lane. Go east to Picadilly Road, then south to the park entrance. Barr Lake State Park is located 20 miles northeast of Denver.
To Contact the Park Write or Call:
Barr Lake State Park
13401 Picadilly Road
Brighton, CO 80603
(303) 659-6005