DiscoveringColorado.Com Home National Parks • State Parks • Cams • Skiing • Photos
surround the park. There are sun soaked beaches to relax on during the day, and beautifully maintained campsites for over night visitors.
The park is nestled in the broad valley of the South Fork of the Republican River, at an elevation of 3,700 feet. Bonny Lake State Park has colorful vistas in the fall and a variety of year-round recreational opportunities including camping, hunting, hiking, picnicking and wildlife viewing.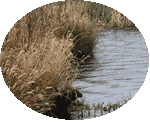 Fishing is well-known and excellent on this 1,900 surface-acre reservoir. Walleye, northern pike and a variety of bass are just some of the fish that inhabit the reservoir. With seasonably warm waters, dependable winds and sandy beaches, Bonny Lake State Park is the perfect destination for swimmers, water-skiers and windsurfers.
Bonny Lake State Park is located on the eastern plains of northern Colorado. It is 23 miles north of Interstate 70 and Burlington, Colorado. The reservoir lies on the Republican River.
To Contact the Park Write or Call:
Bonny Lake State Park
30010 Road 3
Idalia 80735
(970) 354-7306