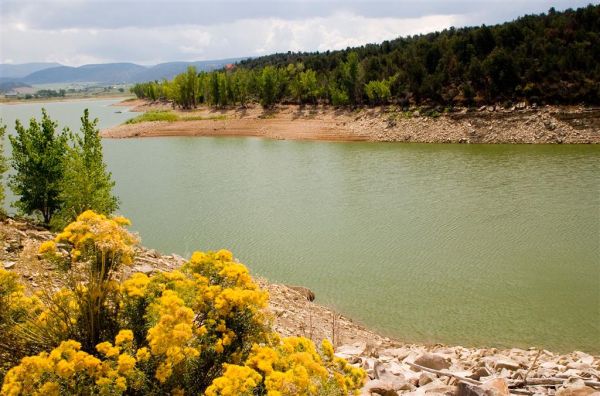 Photo courtesy of
official Colorado
State Parks website.


Enjoy peace and tranquility in one of Colorado's most scenic western slope areas.
The focal attraction of Crawford State Park is the 397 surface-acred lake. Facilities line the lake on the northern, eastern and western shores. The northern shore provides access to a day-use area with several picnic sites and a beach.
DiscoveringColorado.Com Home National Parks • State Parks • Cams • Skiing • Photos
Goodwin Cove day-use Area lies on the western shore of the lake and includes shore-fishing access, picnic tables, pit toilets and the Indian Fire Nature Trail. The eastern shore of Crawford Lake supports the overnight-use areas of the park. These areas include 53 modern campsites with electrical hookups, parking pads, showers, flush toilets, picnic tables, water hydrants and grills. A boat ramp, swimming area and dump station are also located on the eastern shore of Crawford Reservoir.

Fishing is the main reason people visit Crawford State Park. The lake is stocked with perch, bass, catfish and trout. Boating, swimming, water skiing, jet skiing, sailing, hiking, camping and picnicking can also be enjoyed by visitors to this state park. Hunters use the camping facilities of the park as a base for big game hunting during the autumn months. Ice fishing, ice skating, snowmobiling and cross-country skiing may be enjoyed by visitors in the winter months.
To get there from Delta, CO, take Colorado Highway 92 east to Hotchkiss. Stay right on 92 where it intersects Colorado Highway 133 and drive 10 miles to Crawford. The park is one mile south of town.
To Contact the Park Write or Call:

Crawford State Park
PO Box 147
Crawford, CO 81415
(970) 921-5721